LABORATORIO
DEL BENESSERE
WELCOME!
On this page you will find all the treatments with their explanation and with the opportunity to book easily online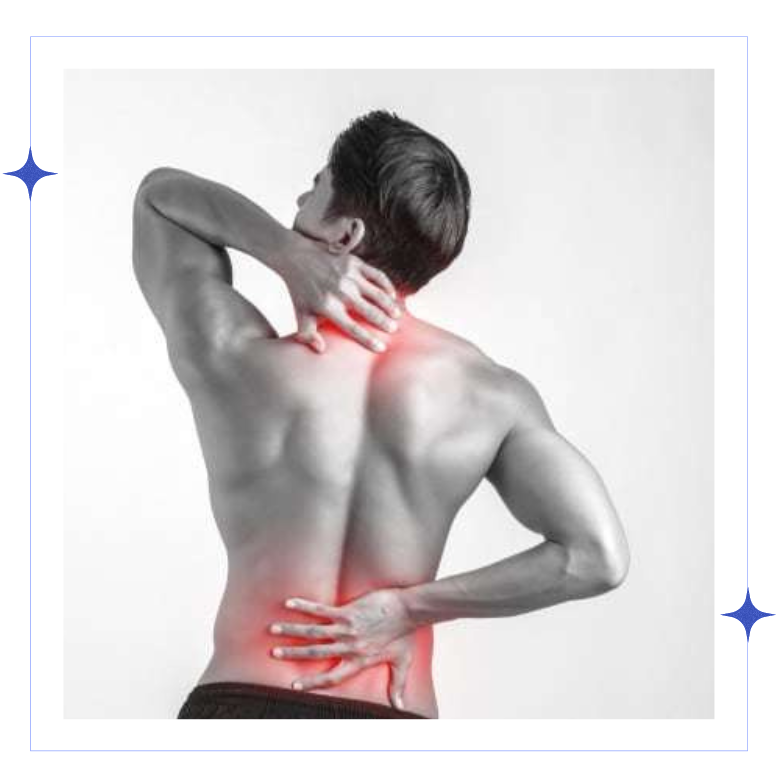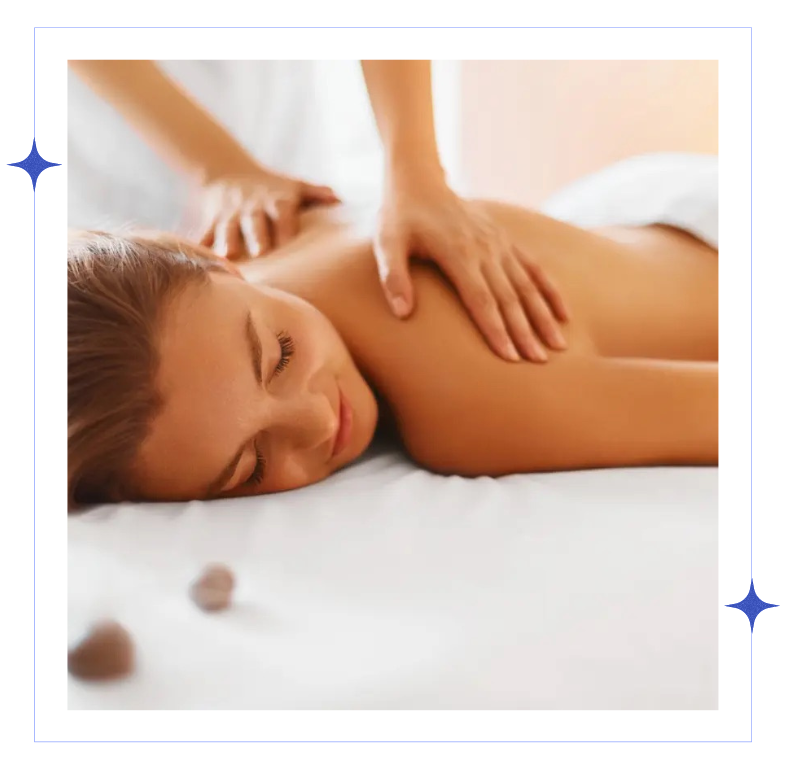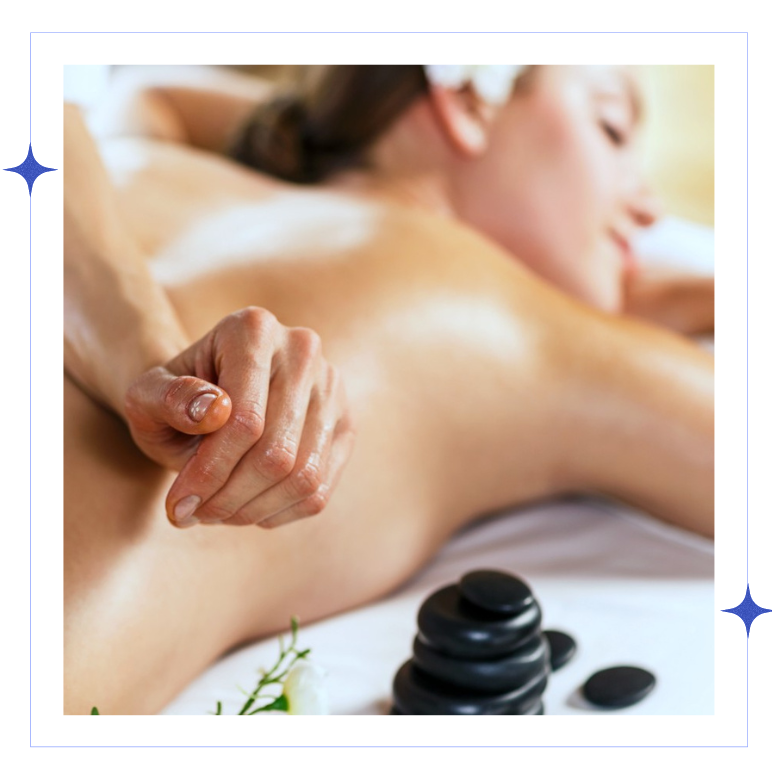 rELAXING ANTI STRESS MASSAGE
The relaxing massage is optimal for defeating stress and anxiety together with all the unpleasant sensations that these difficult emotional conditions generate in the body. A tangible example of physical repercussion for which the relaxing message is necessary is muscle and nervous stiffness that affects the neck, back and also the abdomen. The relaxing massage is also perfect for those who complain of pain due to excessive physical fatigue. Through massage, in fact, patients ward off disorders due to fatigue as well as stress.
THIS MASSAGE IS FOR YOU IF..
THIS MASSAGE IS SUITABLE FOR PEOPLE
WHO ARE OFTEN UNDER STRESS AND SOMATIZING
THE NEGATIVE EMOTIONS ON THE BODY
DURATION: 1 HOUR 60 EuroS
1 HOUR AND 30 MINUTES 80 EuroS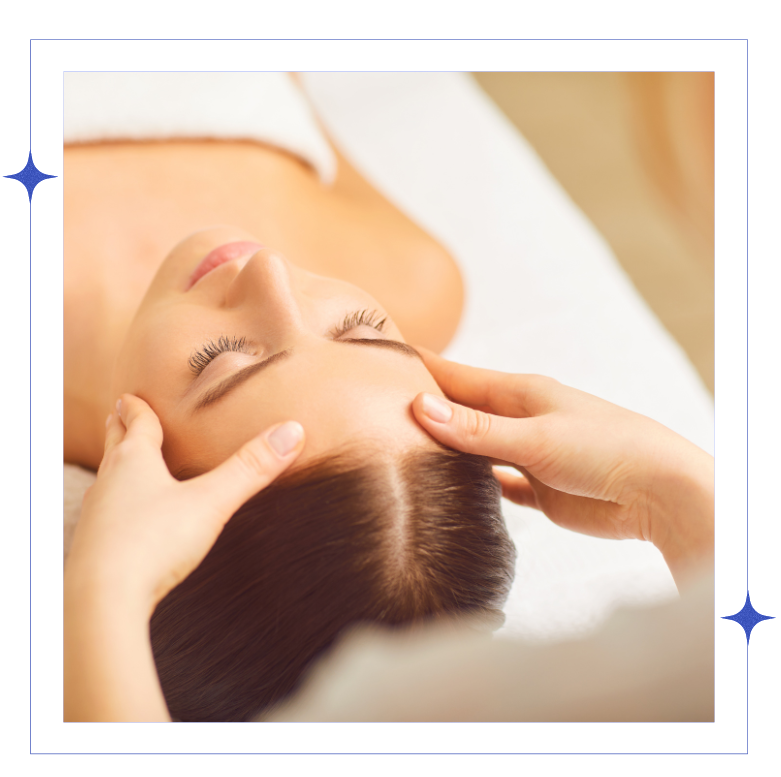 The primary goal of Swedish massage is general relaxation.
In particular, the reduction of muscle stiffness, the stimulation of circulation, the alleviation of pain and better oxygenation. Swedish massage penetrates the body muscles with movement and the use of a moisturizing oil (I use almond oil) ideal for treating specific areas of the body with a toning and draining action.
THIS MASSAGE IS FOR YOU IF..
IF YOU WANT A MOMENT OF RELAXATION AND WELL-BEING.
IT IS THE IDEAL MASSAGE FOR ANY TIME.
DURATION: 1 HOUR 60 EUROS
AN HOUR AND A HALF 80 EUROS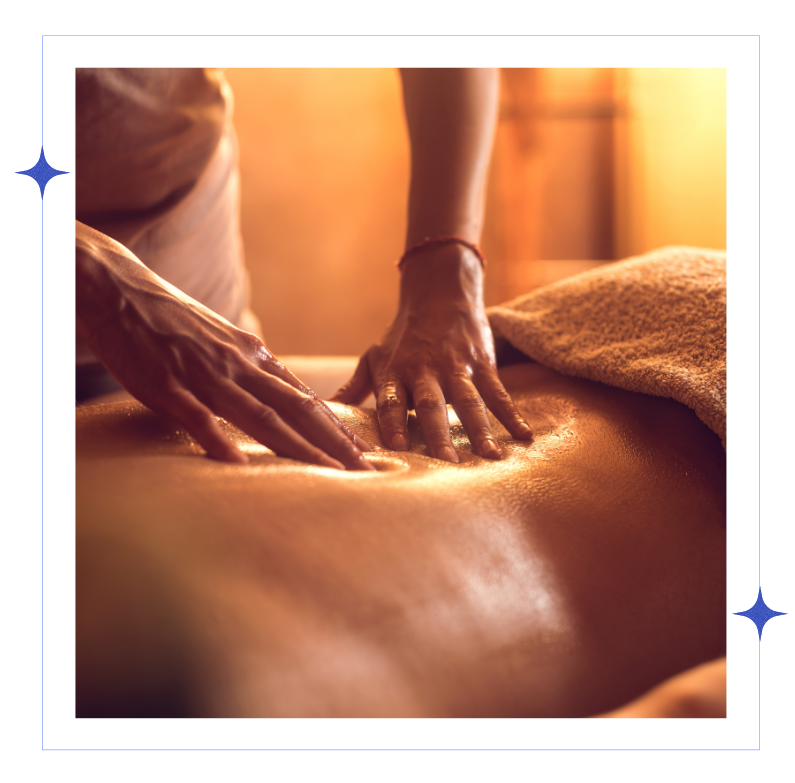 It is an intensive treatment that works on the circulatory, draining and haemolymphatic system to relieve tension, reduce stress and relax the mind. It is performed on the whole body (no private parts) with the use of essential oils with energizing and relaxing properties such as orange and geranium diluted in sweet almond oil.
THIS MASSAGE IS FOR YOU IF..
YOU ARE OFTEN LEAKY AND WITHOUT ENERGY.
IF FROM THE MORNING THE ONLY THING YOU WOULD DO IS GO BACK TO SLEEP.
IF YOU FEEL LITTLE MOTIVATION DURING THE DAY.
DURATA: 1 ORA 60 Euro
1 ORA E MEZZA 80 Euro
The personalized Lab massage is a massage that adapts perfectly to the client's needs and uses a mix of techniques to achieve the goal decided together during a short initial interview. Each massage can be accompanied by an aroma-therapy experience to increase relaxation to forget the frenzy of everyday life and decompress from stress.
THIS MASSAGE IS FOR YOU IF..
WOULD YOU LIKE TO TELL ME THAT IN PERSON
WHICH YOU WANT IN THE MASSAGE.
DURATION: 30 MIN 40 EUROS
1 HOUR 60 EUROS
AN HOUR AND A HALF 80 EUROS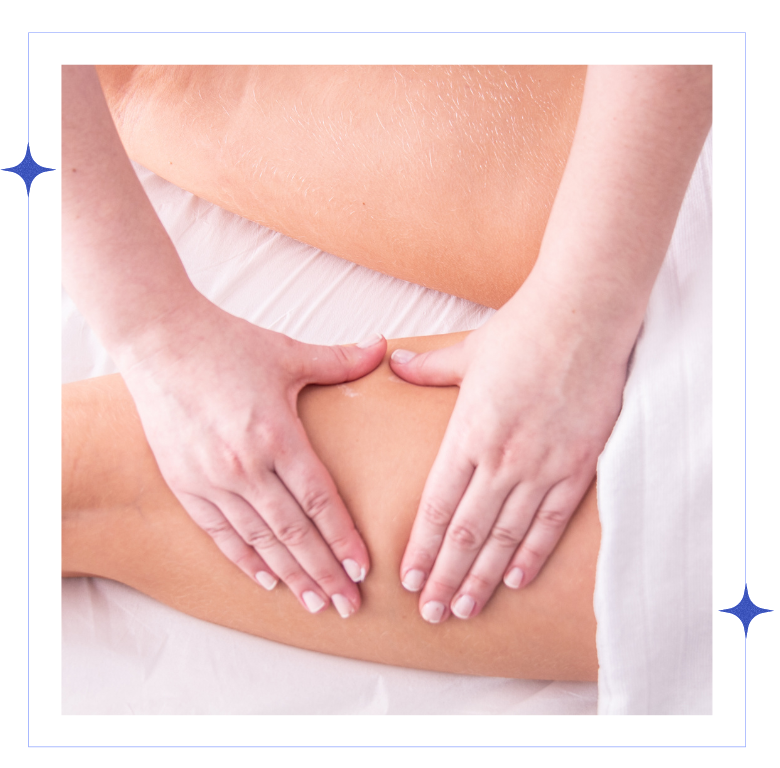 Lymphatic drainage or manual lymphatic drainage is a method that uses low-pressure massage manoeuvres, through the compression and traction of the skin, stimulating lymphatic circulation. It has the peculiarity of reducing the stagnation of liquids, in particular the accumulations of toxins, facilitating their outflow and thus making it possible to reduce lymphatic edema. It can be associated with the use of compression bandages, graduated compression stockings, gymnastics and pressotherapy.
THIS MASSAGE IS FOR YOU IF..
IF YOU SUFFER FROM RETENTION AND SWELLING IN YOUR LEGS.
IF YOU HAVE LOW IDENTITY EDEMA.
DURATION: 5O MINUTES
60 EUROS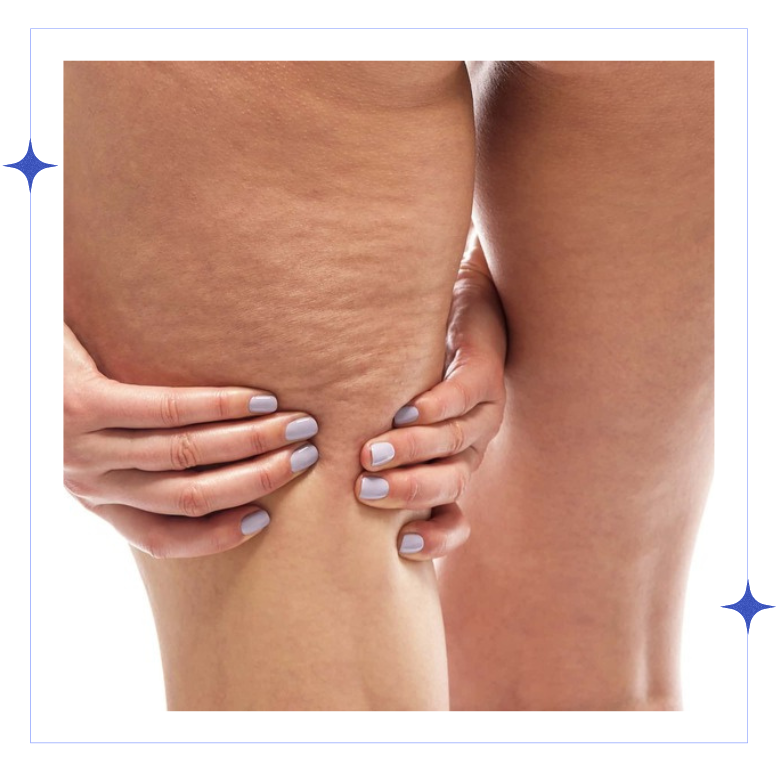 DRAINIG MASSAGE FOR LEGS AND ABDOMINAL

Draining belly massage is an effective technique to counteract fatty deposits under the tissues and deflate a tense abdomen. The slimming and slimming massage techniques decrease pain in the abdominal tract and dissolve stress, simultaneously obtaining multiple results: eliminating inches from the waistline and disposing of fat accumulations, water retention and cellulite, if present.
THIS MASSAGE IS FOR YOU IF..
IF YOU OFTEN SUFFER FROM ABDOMINAL SWELLING WITHOUT NECESSARILY KNOWING THE REASON.
IF YOUR LEGS FEEL HEAVY AND TENSE.
DURATION: 1 HOUR
60 EUROS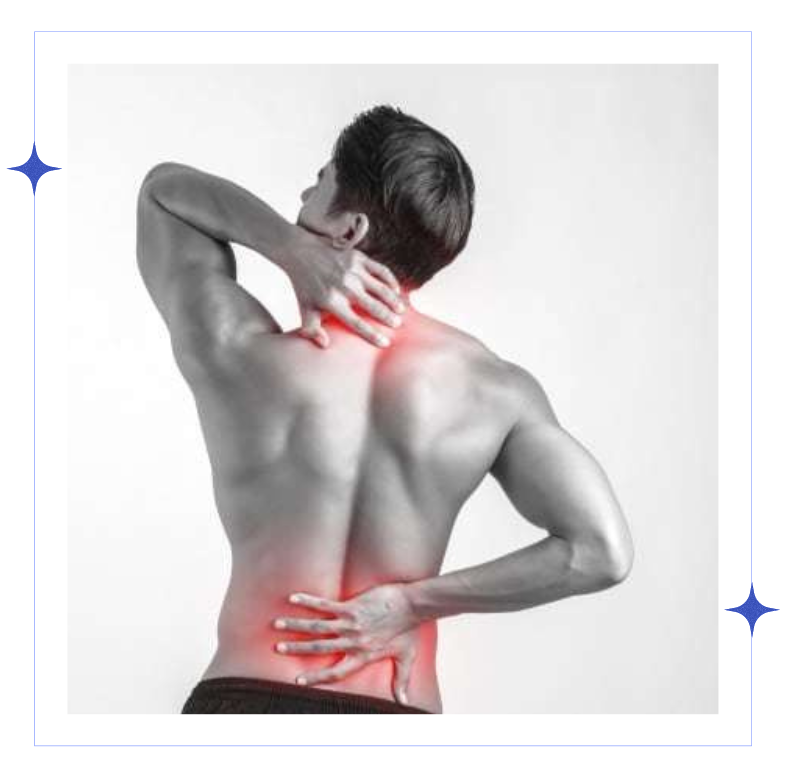 HOULDER AND BACK MASSAGE
The shoulder and back massage helps eliminate muscle tension in the shoulders and neck.
Helps blood and lymphatic circulation in the back area.
A sense of well-being and lightness will pervade body and mind.
Through the massage you also get rid of toxins and regain normal muscle tone.
Using a moisturizing body cream it will be possible to feel the skin smooth and velvety.
THIS MASSAGE IS FOR YOU IF..
IF YOU OFTEN SUFFER FROM HEADACHES, BACK PAIN AND THOUGHTFULNESS
IN THE SHOULDERS..
DURATION: 40 MINUTES
45 EUROS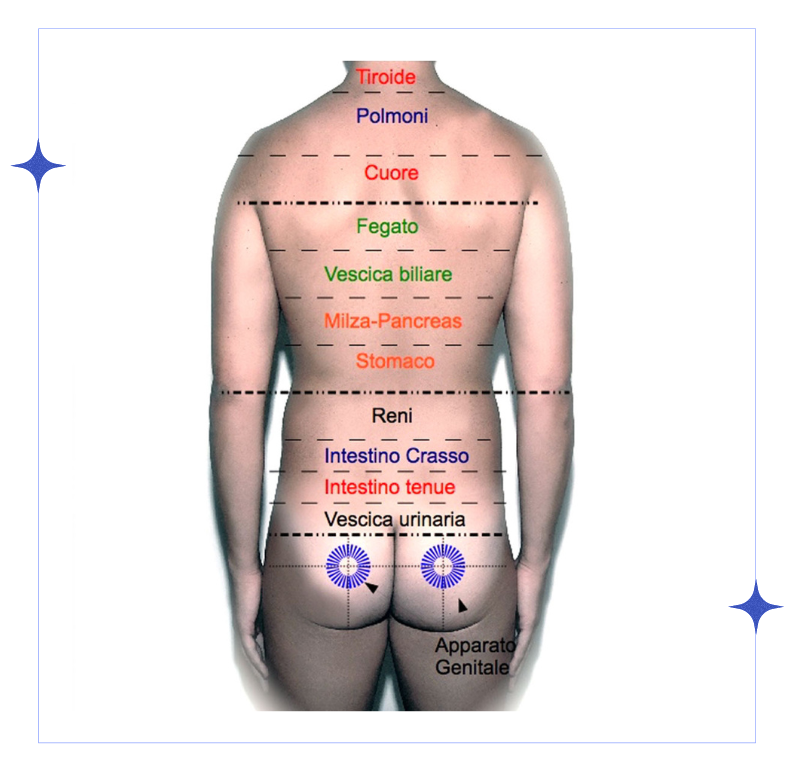 It is an extremely powerful and complex, profound and beneficial treatment. It shouldn't be mistaken for a simple relaxing or energizing session: It's a complete body reflexology therapy. A particular method that deals in depth. He works with specific dexterity on the reflex zones of the nerves that radiate to all the internal organs and different parts of the body. Specifically, it acts on the metameres (bands linked to the nerve parts of the back). These cross horizontally and are directly connected to the sympathetic nervous system via the spinal nerves. It treats the central nervous system, where emotions are predominantly somatized on a nervous level. It rebalances the body on a physical, psychic, chemical and energetic level.
THIS MASSAGE IS FOR YOU IF..
WANT TO TRY A MASSAGE
DIFFERENT FROM THE USUAL:
IF YOU WANT TO IMPROVE YOUR MUSCLE TONE, REBALANCE YOUR NERVOUS SYSTEM AND LET GO OF MANY EMOTIONS ENCLOSED WITHIN YOU.
DURATION: 30 MIN 40 EUROS
1 HOUR 60 EUROS
AN HOUR AND A HALF 80 EUROS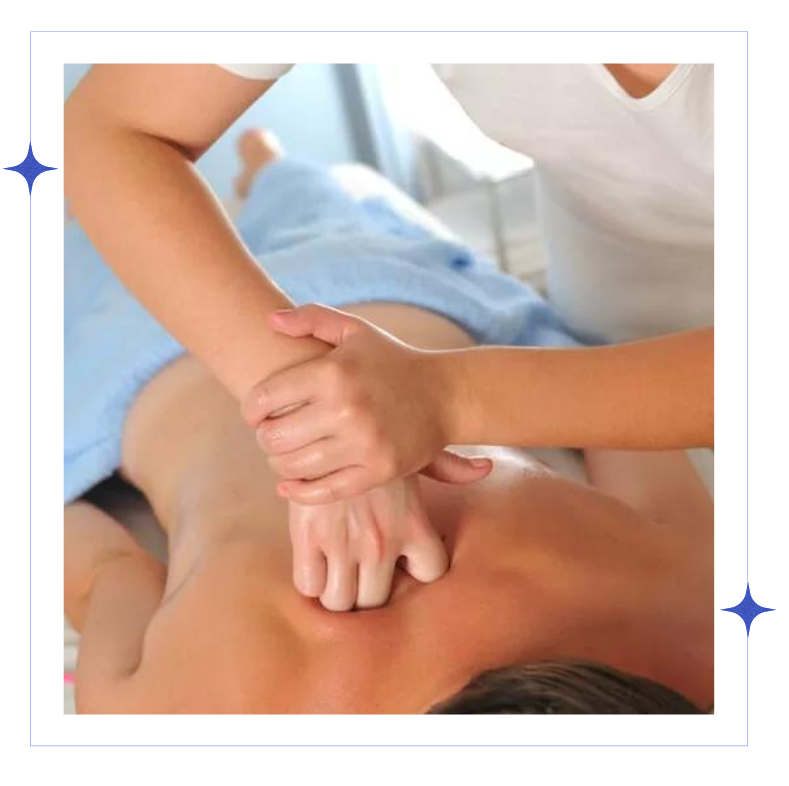 The task of this massage is to relax the muscles and give the athlete a pleasant state of well-being, improve joint mobility, reduce stress and speed up recovery times. To achieve this, I use all the means at my disposal and the personalized analysis of the situation. The massage, depending on the need, focuses on specific pressure points. He may also employ stretches to return the muscles to their normal resting length. In this way tensions disappear, mobility is restored and the body feels positive energy. Massage also helps to reduce recovery times after an effort but also after an injury. A professional athlete who combines training with massage sessions sees his performance improve significantly.
THIS MASSAGE IS FOR YOU IF..
DO SPORT AND YOU NEED
OF A SPECIFIC MASSAGE
DURATION: 30 MIN 40 EUROS
1 HOUR 60 EUROS
AN HOUR AND A HALF 80 EUROS
It works positively in case of painful situations, inflammations that can be acute or chronic, on muscle injuries, on rheumatic joint pains from humidity and from symptoms deriving from dysfunctions of internal organs or from obstruction of energy channels. Cupping brings many benefits (in a popular way and absolutely not in a scientific way): Relieves pain with local action, decongests and relaxes connective and muscle tissue. When applied to the joints, it stimulates the synovial capsule, facilitating lymphatic circulation and blood circulation. Reduces edema Promotes free circulation of IQ (body energy) . Stimulates metabolism and constipation Regulates peristaltic flow Eliminates waste substances and toxins.
THIS MASSAGE IS FOR YOU IF..
IF YOU WANT TO FREE YOUR BODY OF TOXINS AND HELP IMPROVE BLOOD CIRCULATION. IT ALSO PUT YOU IN A GOOD MOOD.
IT CAN BE A LITTLE PAINFUL
DURATION: 30 MIN 40 EUROS
1 HOUR 60 EUROS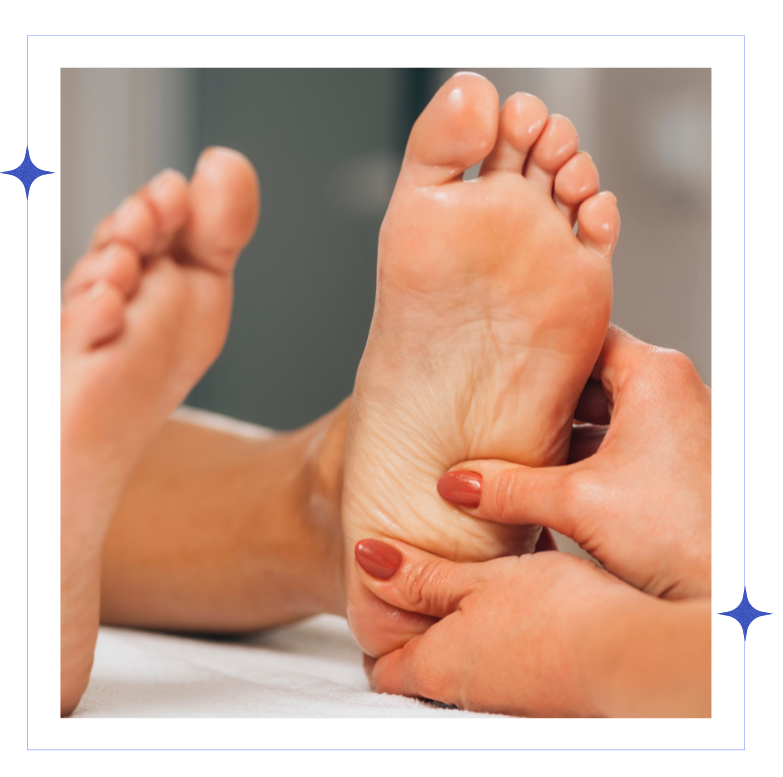 It is the massage that leads to deep relaxation and an intense feeling of well-being: in this state it is easier to detox from bad moods that harm the body and to strengthen the body's natural self-defences. Foot reflexology is a massage done with the thumbs of the hands on the sole of the foot and serves to rebalance the energy and well-being of the body. In the feet there are many nerve endings which, if stimulated, send inputs to the brain to make us feel better. Among the first effects that can be perceived after a plantar reflexology treatment is a formidable sense of relaxation: tensions are released, circulation improves, feet are "lighter".
THIS MASSAGE IS FOR YOU IF..
IF YOU WANT TO GIFT YOURSELF A MOMENT OF RELAXATION WHICH AT THE SAME TIME WILL HELP YOU IMPROVE YOUR HEALTH.
DURATION: 50 MINUTES
50 EUROS